Texas lawmakers are, once again, trying to take no-fault divorces off the table. Although most Texans would argue that treating the commitment of marriage more seriously is a positive thing, trying to enforce this by restricting the ability of unhappy spouses to move on helps no one. It would make the process of divorce more complicated, increase the hostility of the process by forcing parties to make allegations against one another, and put the children of the marriages through more stress.
The worst part about this legislation, however, is that Texans don't even want it: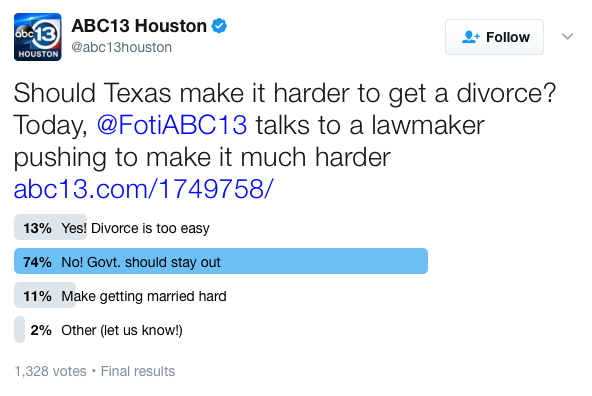 The good news is that this idea is pushed nearly every legislative session, and so far it has never passed. Unlike our lawmakers, Attorney Eugene Haller understands that the point of divorce is to move on, not to spend years fighting in the courts. If you are interested in a no-fault divorce, let us help you find your freedom.